Composite decking is rapidly becoming the favoured choice of many Australians for their backyard projects – and here are just a few of the biggest reasons why!
Composite decking is a core part of our product offering here at Ezy Decking, and it's a type of decking that's rapidly becoming more and more popular the world over. While most decking projects were once simply made with timber and similar materials, there are lots of brilliant reasons that composite decking is now becoming such a favoured choice amongst many Australians. We've not done an exhaustive list, but here are some of the biggest!
Increased resilience and durability
The enhanced durability of composite decking is unquestionably one of its biggest advantages. It's highly resistant to most casual damage and impacts (including knocks, bumps and scratches) so there's less to worry about when moving furniture on and off your decking. It's also far less likely to rot, crack or warp over time, which means it can stand up to more frequent and intensive use than many variants of wood decking – perfect for busy family environments, or if you want to host parties and social occasions on your decking.
Very low maintenance
The increased durability of composite decking also means it's incredibly low maintenance, too. Since it's protected against most moisture and rotting, it's far less frequently in need of staining or oiling, and its resistance to casual impacts means that you'll rarely find yourself needing to sand it down, either. All it needs is occasional cleaning with soap and water to keep it in top condition, making it easier and less time consuming to look after than many other types of wooden decking.
Slip-resistant and exceptionally family-friendly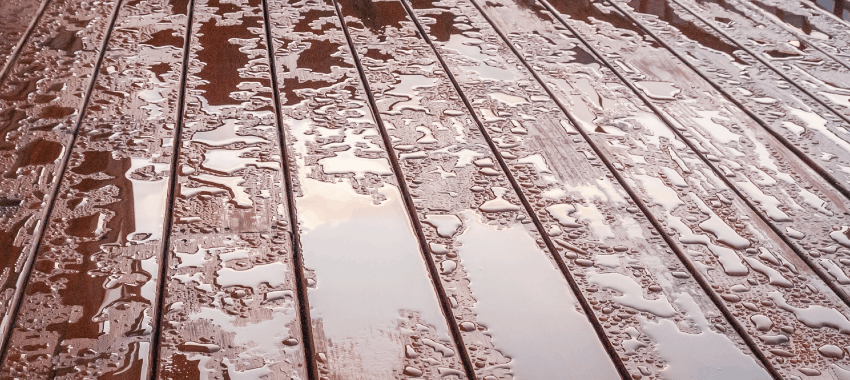 Another key advantage of composite decking is that it's much less hospitable to mould than most types of wooden decking. Mould is a big factor in making decking highly slippery (especially after periods of heavy rainfall), so composite decking's resilience to it automatically makes it a lot safer for children and families, and it's often less slippery even in rain than wood decking. Composite decking is also insect proof and splinter free, further enhancing its safety value for younger members of the family – and pets!
Modern and sophisticated aesthetics
Wood decking can be great for giving your backyard a cosy, homely feel, but if you want more of a contemporary look for your space – especially if it matches the style of your home – composite decking is often the ideal choice. Its stylish grey shade gives your outdoor space a modern and sophisticated look, which you can enhance with your choice of backyard furniture – sure to impress your family and friends!
All this at fantastic value
Though wood decking is usually a little cheaper at the outset than composite decking, you've got to factor in the cost of maintenance, as well as possibly repair if it gets damaged. Composite decking, meanwhile, will save you a lot of effort and likely money in the long run, and can end up paying for itself in just a matter of years. Exactly how long will obviously depend on the size of your project!
And if you're on the hunt for some quality composite decking, you're in exactly the right place. We've got a fantastic range of composite deck products right here at Ezy Decking, and if you need any help or advice on your project, our experts are only too happy to help. Why not take a look around our site, and see what you can find?